Greater Austin is full of diverse landscapes and vibrant communities. From the bustling city of Austin to the rolling hills of the Texas Hill Country, there's something for everyone.
In this blog post, we'll take a closer look at the Greater Austin metropolitan area, which is home to over 2 million people and is one of the fastest-growing regions in the United States. We'll explore the six counties that make up the Greater Austin area, highlighting their unique features and attractions.
Whether you're looking for a city lifestyle, a suburban oasis, or a rural retreat, the Greater Austin area has something to offer. So, come along with us on a journey through this vibrant and diverse region!
Texas
Everything is bigger in Texas, including the state itself. When we were kids, our parents drove us from Denver to Galveston so we could play in the Gulf of Mexico. We asked our dad why so many cars at the Holiday Inn motel had Texas license plates. He said, "You can drive all day and still be in Texas."
Two fun facts about the size of Texas:
Texas is the largest state in the continental U.S., it is 64% larger than CA, which comes in at number two
San Diego is closer to El Paso than El Paso is to Houston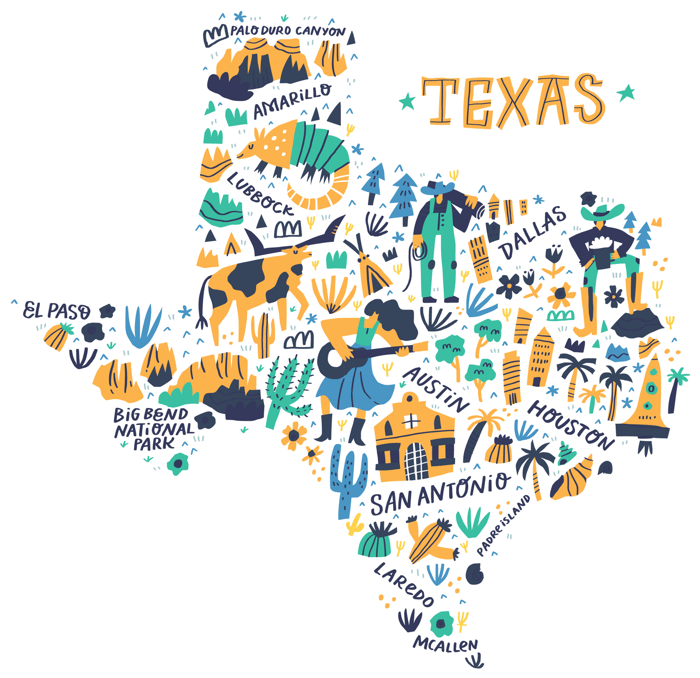 Texas Triangle
The area outlined by Dallas, Houston, and San Antonio is called the Texas Triangle. It is home to 20 million people, 70% of the state's population, and it is one of the fastest-growing regions in the United States. Austin is on the left side of the triangle between San Antonio and Dallas as you can see in this Google map.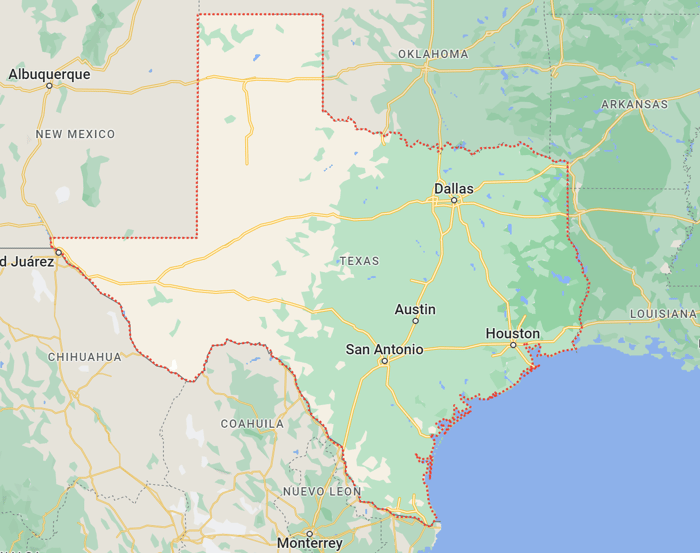 How long does it take to drive from Austin to each of those three major cities?
San Antonio – 1.5 hours
Houston – 2.5 hours
Dallas – 3 hours
The City of Austin
Most people who have never been to Austin do not realize how beautiful the city is or how much it is growing. Austin will soon have a 74-story mixed-use skyscraper called Waterline. Today, the tallest building in Austin is 66 stories with offices, retail stores, residential units, a rooftop pool, rainwater harvesting, and a green roof.
Did you know the Colorado River runs through downtown Austin? It's not the same Colorado River that runs runs from the Colorado Rockies, through the Grand Canyon, to the Pacific Ocean. There are actually two Colorado Rivers.
The Colorado River that Austin kayakers and Stand-Up Paddle Boarders enjoy begins up north, in the Texas panhandle, and flows about 600 miles southeast to the Gulf of Mexico. This was confusing for us when we relocated here.
Greater Austin
Another thing that was confusing was when people said 'Austin' but they meant 'The Greater Austin Metropolitan Area.' The city of Austin has just under one million people. Greater Austin is made up of six counties, has more than two million people, and is the 35th largest metropolitan area in the United States.
The six counties that make up Greater Austin include: click blue county name below to jump to that section
Combined, Greater Austin's six counties total 4,300 square miles or 26 million acres, which is larger than the states of Rhode Island and Delaware combined.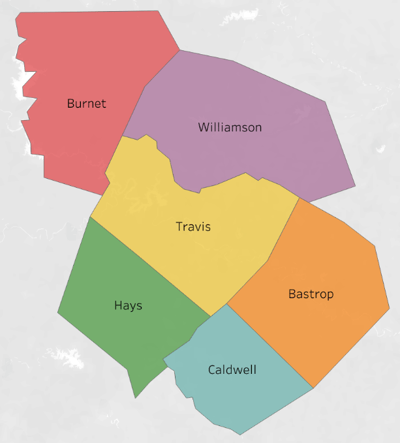 Image: A2SI - The University of Texas at Austin
The term 'Austin' sometimes refers to the Austin-Round Rock Metropolitan Statistical Area (MSA 12420), which is a government classification of urban areas with populations over 50,000 people. The Government uses MSAs for economic analysis, transportation, and social service planning.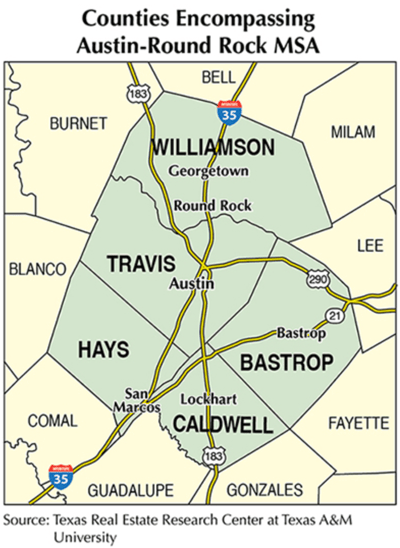 Texas Hill Country
Another term you frequently hear is Hill Country. Most of Greater Austin is in the Texas Hill Country, which is a region of rolling hills, steep ravines, and limestone bluffs located west and southwest of Austin. Elevations range from 500 to 2,250 feet above sea level. The highest point is Enchanted Rock, which is 2,404 feet.
This hilly topography helps moderate the climate because mountains block the hot, humid air from the Gulf of Mexico and the hills help create a more varied microclimate.
Hill Country is less humid and higher in elevation than Dallas or Houston. The higher elevation leads to air that is thinner and cooler, making it easier for the wind to blow. The wind in Hill Country can be a nuisance at times, but it can also be a blessing because it helps keep the air cool at night in the summer and it distributes moisture evenly throughout the region.
Greater Austin Area Counties
One of the best things about Greater Austin is how many options people have in terms of lifestyle, from living on acreage with animals, to downtown high-rise condominium living. And the variety of food choices, entertainment, religion, politics, live music, city-life, or outdoor activities, is why people say Greater Austin offers it all.
Those who live in more rural counties are usually less than an hour drive to Austin International Airport and those who live in the suburbs are less than a 45-minute drive. This is a key point of distinction because house prices in the suburbs are often much more affordable.
Here's an anecdotal story about convenience and commutability: some people who live in the suburbs (Leander), where home prices are less expensive, take the train to downtown Austin for Friday happy hour, dinner, and live music. Then, they take the midnight train back home... a fun evening that avoids Friday rush-hour traffic.
Below is a table that highlights key demographic information about each of the six counties in Greater Austin. Notice how young the median age is and the difference between median home prices from county to county.

For more information on Texas property taxes, see our post titled: Understanding Texas Property Taxes.
Next, we'll look at a high-level overview of each county. And you'll find links to fantastic city profiles created by Stewart Title. They are slightly outdated (2019) but they are too good not to share.
Travis County
Travis County is a gem nestled in the heart of this vibrant region. Travis County is more than the city of Austin; it is a place where city living meets the beauty of nature, creating a unique lifestyle that attracts families and individuals seeking a better quality of life.
Diverse Communities
This county is a tapestry of diverse neighborhoods and communities, each offering its own unique charm. Whether you're looking for a historic bungalow, a modern condo, or a spacious suburban home, Travis County has it all. Families and individuals of all backgrounds find their perfect niche here.
A Cultural Epicenter
Travis County is renowned for its rich cultural scene. From world-class music festivals to art galleries and theaters, there's never a dull moment. Live music is practically a part of the local DNA, making it a haven for music enthusiasts.
Austin Real Estate
The Austin real estate market is a dynamic one, offering a wide range of options to fit different budgets and preferences. The most expensive home sold in Austin in 2022 reportedly sold for $38.9 million. It was a 6-acre lakefront estate on Lake Austin. According to Zillow, the median price of a lakefront home on Lake Travis in the last year was $2.25 million.
Travis County Highlights
Live music capital of the world including SXSW (South by Southwest) and ACL Festival (Austin City Limits)
Lady Bird Lake (runs through downtown Austin)

The University of Texas at Austin

Lake Travis (boating, water sports)

Austin FC soccer team

State Capitol
Travis County City Profiles
Williamson County
Nestled in the heart of the Greater Austin metropolitan area, Williamson County offers an inviting blend of urban convenience and serene suburban living.
A Suburban Oasis
Williamson County, often hailed as one of the fastest-growing counties in the nation, combines the allure of small-town life with easy access to the vibrant Austin scene. Its strategic location, excellent schools, and flourishing job market make it an attractive destination for families and individuals alike.
Diverse Communities
One of the county's standout features is its diversity of communities. From the historic streets of Georgetown to the family-friendly neighborhoods of Round Rock and the scenic beauty of Cedar Park, you'll find a wide array of housing options to suit your lifestyle and preferences.
Cultural Delights
Williamson County boasts its fair share of cultural treasures. The charming town squares and historic districts invite exploration, while the county's thriving arts and music scene provides endless entertainment options. Whether you're enjoying live performances or wandering through local galleries, you'll find culture at every corner.
The Real Estate Advantage
With a 2023 median price per square foot of $225, homes are roughly 60% less expensive than median priced homes in Coastal California and other desirable areas.
Williamson County Highlights
Round Rock Express – minor league baseball
Historic Georgetown Square
Southwestern University
Suburban paradise
Inner Space Cavern
Blue Hole Park
Williamson County City Profiles
Hays County
The gateway to Hill Country Living. If you're in search of the perfect blend of scenic beauty, small-town charm, and easy access to the bustling Greater Austin metropolitan area, Hays County may be a good fit.
A Natural Haven
Hays County is renowned for its stunning natural landscapes. Nestled in the heart of the Texas Hill Country, the county boasts picturesque rolling hills, crystal-clear rivers, and lush greenery. It's a paradise for outdoor enthusiasts, offering hiking, kayaking, and endless opportunities to commune with nature.
Small-Town Treasures
One of Hays County's defining features is its collection of quaint, welcoming communities. From the historic town of San Marcos to the charming streets of Wimberley and the vibrant culture of Dripping Springs, you'll find a diverse array of neighborhoods and lifestyles to choose from.
Cultural Riches
Hays County may embrace a small-town feel, but it's far from short on culture. The county's arts scene is thriving, with local galleries, theaters, and music venues hosting a range of creative expressions. Whether you're exploring local art or enjoying live performances, Hays County has a vibrant cultural tapestry to discover.
Real Estate Opportunities
Considering buying a house in Hays County? The real estate market here offers a blend of historic homes, modern properties, and scenic ranches. Investing in Hays County means embracing the Texas Hill Country lifestyle while enjoying the convenience of proximity to Austin.
Hays County Highlights
Natural Beauty and lifestyle
Jacob's Well artesian spring
Texas Hill Country wineries
Wimberley Square
San Marcos River
Dripping Springs
Hays County City Profiles
Bastrop
Bastrop County is where history meets nature. Nestled along the banks of the Colorado River, Bastrop County, Texas, offers a unique blend of rich history, natural beauty, and a welcoming community.
A Historical Haven
Bastrop County wears its history proudly. The county seat, Bastrop, is one of the oldest towns in Texas, featuring a charming historic district filled with well-preserved 19th-century architecture. As you stroll through the town's streets, you'll feel transported back in time, surrounded by a sense of Texas heritage.
Natural Wonders
Beyond its historical charm, Bastrop County is known for its breathtaking natural landscapes. Bastrop State Park, also known as the "Lost Pines," is a true gem, offering hiking trails, camping, and a canopy of loblolly pines that sets it apart from the surrounding landscape. The Colorado River winds through the county, providing opportunities for kayaking, fishing, and leisurely days by the water.
Bastrop County Highlights
McKinney Roughs Nature Park
Bastrop County Museum
Bastrop Historic District
History and Tranquility
Bastrop State Park
Lost Pines Trail
Burnet
Burnet County is a Hill Country Gem of Scenic Beauty. It is nestled in the heart of the Texas Hill Country, Burnet County, Texas, offers a unique blend of natural beauty, outdoor adventures, and a welcoming community.
A Scenic Paradise
Burnet County is a visual masterpiece, boasting picturesque landscapes of rolling hills, pristine lakes, and lush vegetation. It's a haven for outdoor enthusiasts, offering hiking trails, fishing spots, and breathtaking vistas that capture the essence of the Texas Hill Country.
Small-Town Charm
The county's towns and communities are characterized by their small-town charm and friendly atmospheres. From the historic streets of Burnet to the tranquil shores of Lake Buchanan and the welcoming neighborhoods of Marble Falls, Burnet County offers a variety of lifestyles to suit your preferences.
Burnet County Highlights
Longhorn Cavern State Park
Spider Mountain Bike Park
Fall Creek Vineyards
Inks Lake State Park
Lake Buchanan
Natural Beauty
Caldwell
Caldwell County is where tradition meets tranquility. Nestled in the heart of Texas, Caldwell County offers a unique blend of rich tradition, serene living, and a welcoming community.
Embracing Tradition
Caldwell County is a place where tradition is cherished. The county seat, Lockhart, is known as the "Barbecue Capital of Texas." Lockhart's barbecue joints, some of which have been in operation for over a century, serve up mouthwatering, slow-cooked meat that pays homage to Texas' culinary history.
A Peaceful Retreat
If you're seeking a peaceful retreat from the hustle and bustle of city life, Caldwell County is the ideal destination. The county's towns, like Luling and Martindale, exude tranquility, making them perfect for those who long for a serene and slower-paced lifestyle.
Outdoor Adventures
Caldwell County is surrounded by the beauty of nature. The San Marcos River winds through its landscape, offering opportunities for tubing, kayaking, and fishing. Residents and visitors can also explore nearby state parks, such as Palmetto State Park, where hiking, birdwatching, and picnicking are popular pastimes.
Caldwell County Highlights
Paddling on the San Marcos River
Caldwell County History Museum
BBQ Capital of Texas in Lockhart
Historical sites in Luling
Lockhart State Park
Small town charm
Greater Austin Economics
The Greater Austin metropolitan area, also known as the Austin-Round Rock-San Marcos MSA, has a GDP of $194 billion in 2023. This ranks Greater Austin as the 22nd largest metropolitan economy in the United States. Dallas and Houston have larger economies at $513 billion and $454 billion, respectively.
Below is a table that breaks down GDP by county and shows the number of employees in each of the three largest industries. Also included are the number one and two employers in each county.

Conclusion
We hope this provides a better sense of what makes up the magic that is Greater Austin. Austin is a young and dynamic city with a bright future. It is one of the fastest-growing cities in the United States because of its low cost of living, great quality of life, and entrepreneurial spirit.
At Considering Austin, our mission is to help people make intelligent decisions around relocating and buying a home that offers a lifestyle previously dreamed about. If you found this post interesting and helpful, please subscribe to our email newsletter.
Resources
https://www.stewart.com/en/markets/austin/tools-and-resources/city-profiles.html
"We include Burnet County in our analysis of the Austin Area given commuter patterns in the region, that the City of Austin's water supply is entirely supplied from reservoirs in Burnet County, and the likelihood that Burnet will be included in the official MSA post-2020 census." - RGK Center for Philanthropy and Community Service